Why Designing Interior With A Story Matters
One might not realise this, but the interior design of your home / space tells a story of you, the person who lives in it, or the company that functions in it. Interior design is a personal narrative that is based on visuals. Residential homes will carry visuals that help communicate one's life journey, aspirations, and passion. Commercial spaces carry visuals that communicate the company's brand, image, and unique selling points. In this blog, we'll share why we think it is important for you to design your space with your own story.
Your tale and not your fairytale
Your story is not a fairytale but a real account of your life. When reeled into interior design, it adds an emotional element to the space. With this in mind, no two interior designs should look the same. The authenticity and unique elements brought together through your story will differentiate your space from others.
Designing an interior with you or your organisation's story is what professional interior designers are trained for. Designers bring in the desired moods, and emotions, down to the flow of a space. It is done through careful selection of materials, colors and also the careful allocation of space catering to different needs / business objectives.
Your space looks like my space.
Today, spaces are designed in a similar manner, with similar concepts and layouts. With the rise of modern-day HDB BTO (Built to order units), housing layouts are now pretty standard, which may seem like a limitation to homeowners where their design choices and room to deviate are small.
Designers, on the other hand, can see beyond the concrete space. According to your story, they'd be able to identify ways to tweak or utilise spaces you might not have even thought about. What are the chances of you going to a friend's house with the same layout and almost the same concept these days? We'd say the chances are pretty high, so designing your home with YOUR story matters.
How do we at AR-kee Design Studio, design with a story
Your story matters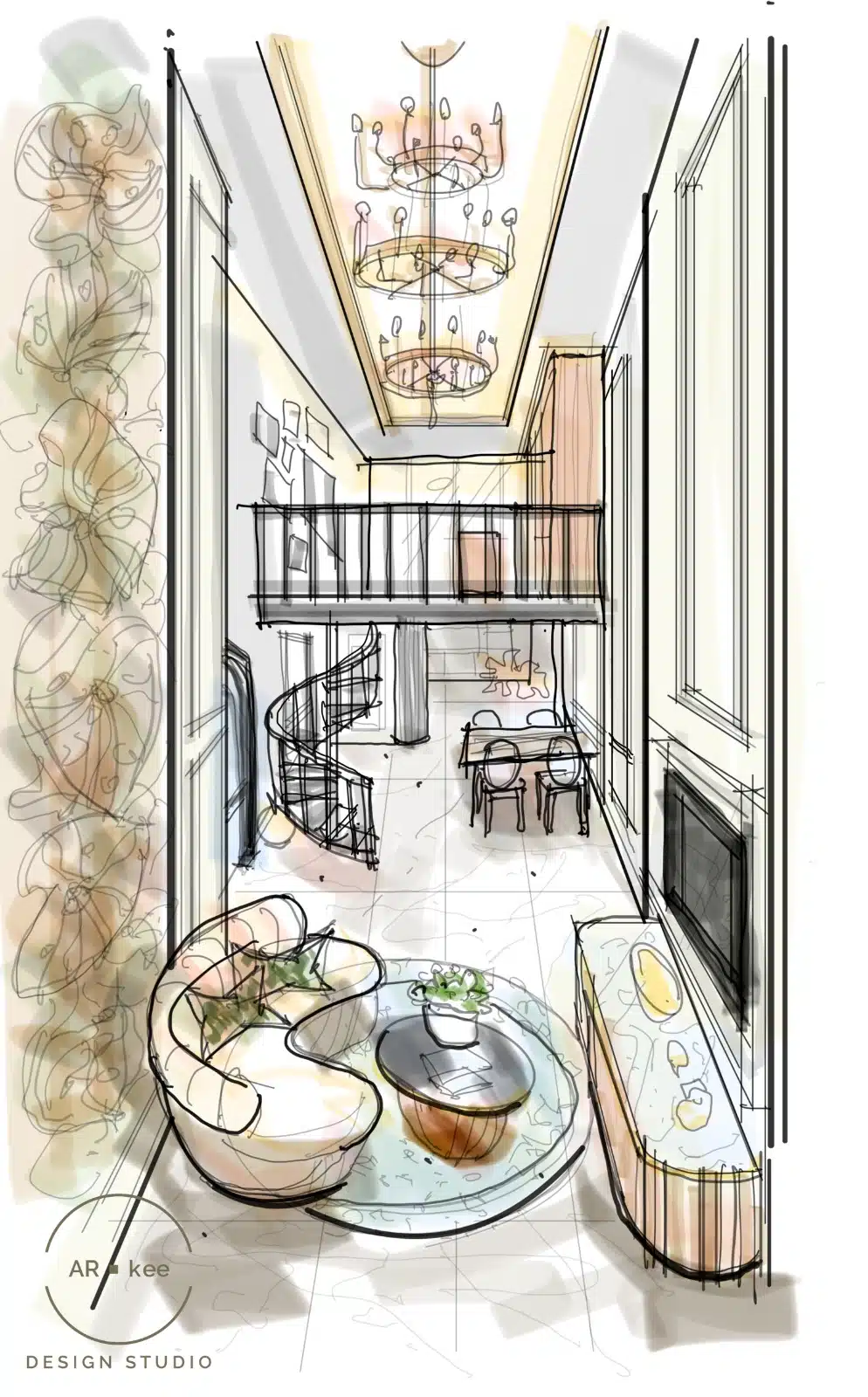 For us at AR-kee Design Studio, it is important to get to know you as a person / family unit / company beyond the scope of your space. This helps us identify the needs you have as individuals and also know the story behind why you had picked the specific unit. It is important for our design team to understand your lifestyle, how you would utilise the space; or understand the working culture of your organisation to design a space that identifies the brand.
Knowing your story also allows us to tailor your design according to the objective you'd like to achieve in the new space and the budget you have to work with.
Study the architecture of your space
The effective planning of space is a crucial part of any interior design. How does your space flow the moment you enter? It highlights the character of the space and sends messages to visitors who come over. Imagine the entrance of your home designed with a water feature to greet your visitors. Chances are, your visitors would smile at that unique sight and gleam with joy. That already sets you apart from many. The story behind that could be that you find calmness and peace in water and want to share it with the people visiting your space.
Designing outside of the box, for you.
Your space should reflect you as a person and/or the organisation's identity. Interior designers can do this for you. They do the thinking for you and may even pull off design ideas you love without knowing you would.
Let's talk about designing for an organisation. A compelling narrative for your space will strengthen the brand while fostering a cohesive and competitive marketing edge. Your space is where your people spend every day of their working lives. Your space will be where history will be made, so your space should be designed based on the story the organisation has / would like to tell.
Storytelling in interior design integrates functionality and aesthetics and brings an emotional element. Developing a story that will astound your clients and encourage them to recommend you to others is crucial. Your story is unique to you; that is how your spaces should be designed. Designs created through this method will also be timeless as it does not follow trends but follows your story through time.
Your story is unique to you and that is how your spaces should be designed.
At AR-kee Design Studio we help you build homes and commercial spaces unique to you. Speak to us today to let us in on the storytelling journey through your story.